If you are sick and tired of trying a lot of different skin treatments to fight dark circles and seeing no significant results, you will be happy to read that we have an innovative solution for you…
The Global Eyecon is a 6-week treatment specifically developed to treat issues around the eyes, such as dark circles​, under-eye bags, drooping upper eyelid and fine lines.
But let's start from the beginning…
What are dark circles and what are its main causes?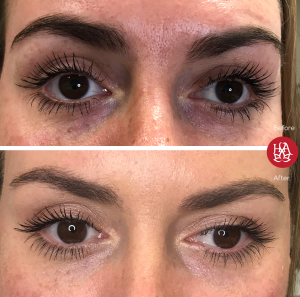 Dark circles are deep marks in the eye region with colouring formed by the large concentration of blood vessels or melanin in the lower eyelid.
The causes of dark circles are diverse. If you have a sleep disorder and sleep poorly or poorly, this may be the problem. Stress, poor diet, excessive consumption of alcoholic beverages, dehydration and physical inactivity also contribute to a tired appearance and the appearance of dark circles.
However, the main cause of the problem, especially if it is already chronic, is genetics.
So, to help treat dark circles, try to eat well, exercise, drink plenty of water and sleep well. Remember to always remove your makeup before going bed, use sunscreen and keep your skin hydrated.
Now, what is the Global Eyecon about?
At the clinic, we perform Global Eyecon by Mesoestetic, a specific professional treatment to fight the signs of ageing and fatigue in the eye contour.
Also read: The best non-surgical anti-wrinkle treatments
As said, it consists of a 6-week program. Basically, the treatment is a 3 weeks application of a trans epidermal solution exclusive for the periocular area alternated to 3 sessions of peeling, achieving cumulative and visible results from the first session.
The maintenance should be done at home after the sessions with the products provided.
https://www.instagram.com/p/CB3FXQ-nRLE/?igshid=1gy11zt1webuk
We also recommend filler under the eyes to get rid of dark circles.
Book a consultation so we can verify which is the most recommend and safe option for you.
To know more about this or other aesthetic treatments follow us on Instagram and Facebook.