Lip fillers is a cosmetic procedure that can give you plumper and shaped lips. An injectable dermal filler is the most commonly used method of lip augmentation. There are many types of dermal fillers that can be injected in your lips and around your mouth.
It is becoming widely popular because of its fast and astonishing results, and also because it has no side effects (if done properly) and it is not painful.
If you dream of fuller lips but are unsure whether or not to do this procedure, read the answer to some of the most common questions about lip fillers.
we hope to help you make up your mind.
What is the filler made of?
At the clinic, we opt for a Non-Animal Stabilized Hyaluronic Acid (NASHA) dermal filler that has been used in the USA since 2003 for the treatment of moderate to severe facial wrinkles and folds, such as nasolabial folds, lips, marionette lines, dropped cheeks, and more.
Hyaluronic Acid is naturally found in our bodies that can hold up to 1,000 times its own weight in water. And that is why it is the ideal substance for hydrating your skin and plumping your lips.
How do I choose how much filler I will need to get the desired result?
At the clinic, you can choose from 0.5ml to 1ml.
Your practitioner will ask your preferences and evaluate your lips before starting the procedure to help you make this decision.
I want a "natural look". Is it possible?
Hyaluronic acid is the preferred filler type for a more natural look. Your practitioner will evaluate your lips and shape them according to your preferences.
Can I also choose the shape that I want my lips to have?
Sure! Check out some of the most commonly requested shapes on the video:
How much do lip fillers cost?
See our prices list.
Are there any recommendations that I should follow before the procedure?
You should avoid blood thinners, such as painkillers (e.g., aspirin and ibuprofen), fish oil, and vitamin E for one week. Also, do not drink alcohol, which thins your blood as well.
Thinner blood makes the area more prone to bruising and bleeding.
What should I not do after lip injections?
It is recommended to stay away from the gym for at least 24 hours, and avoid activities that increase blood flow to your face (e.g., facial massage and headstands).
How long is the downtime?
All the transformation is made with no bruising nor swelling. The best result comes within 48 hours.
How long do lip fillers last?
That depends on the product used, on how much the patient gets, their metabolism, and the desired plumpness. It usually lasts from 3 to 5 months, but it can vary.
Does lip filler dissolve naturally?
The hyaluronic acid filler dissolves in a matter of months.
Do lip fillers permanently stretch your lips?
No! Your lips will not turn into saggy a while after the procedure.
Actually, the opposite happens. Hyaluronic acid stimulates your own collagen production, so your lips can get more hydrated and beautiful
Lip fillers results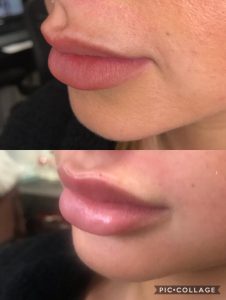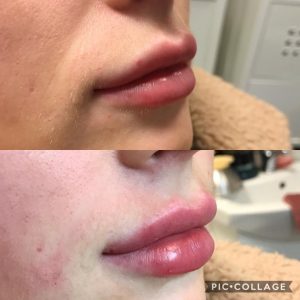 If you still have doubts about lip fillers, follow us on Instagram and Facebook or send us a message. We will be happy to evaluate your lips and help you find the best solution.